1325 1530 ATC CNC Router For Aluminium
This machine is designed to accommodate a wide range of materials and applications. We can work on wood, plastic, aluminum or other none-ferrous materials. This is an economic model ATC Cnc Router for woodworking factories.. UTECH have Cnc Router Series, include Mini Desktop Cnc Router, Advertising Cnc Router, Woodworking Cnc Router, Professional Stone Cnc Router, Sign Cnc Router, ATC Cnc Router; Vision Localization/CCD Series include Cnc Router with CCD, Oscillating Knife Cutter with CCD.
Applications:
1)Wood industry: Stereo Wave Plate Processing, cabinet doors, solid wood doors, Craft wood door, paint free door, folding screen, craft window, shoe cleaning machine, game cabinet, mahjong table, computer table, and panel-type furniture's assistance processing.
2)Advertisement industry. Advertisement label and logo, Acrylic cutting and blister molding, Multi Ad. Material and decoration products processing.
3)Mold industry. Engrave on material like brass, Al, and Iron to make metal mold. And it can engrave on artificial Marble, gravel, plastic board, PVC pipes,wood, and alike Non-metal mold.
4)Other industry. Engrave all kinds of image engraving and relief engraving. It is widely used art & craft industry.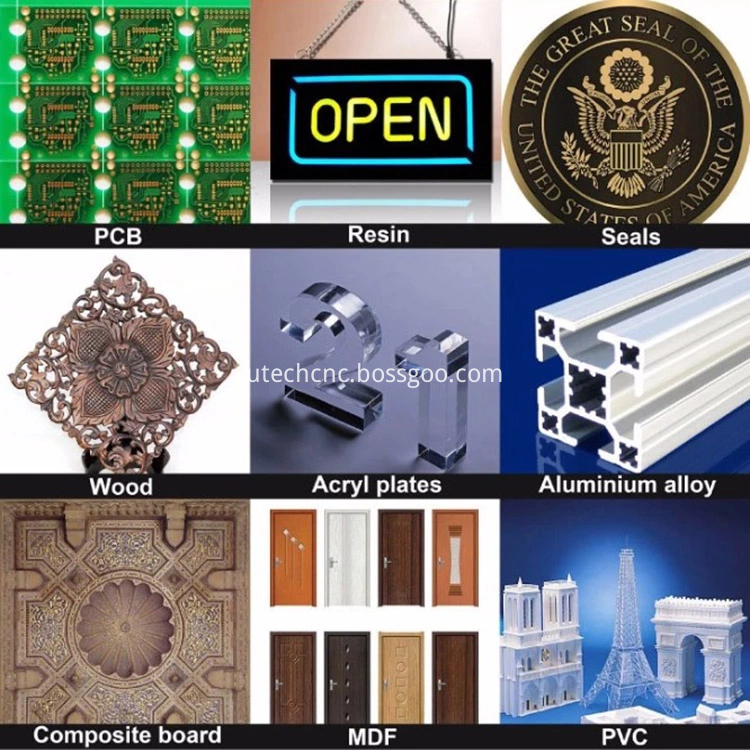 ATC Machine Advantage Of ATC Cnc Router
1. Operating software interface fully open port, strong compatibility with a variety of software seamless docking matching.
2. Adopt hollow vacuum adsorption mesa, can absorb and clip different sizes of plate.
3. Precision star reducer with imported rack, small volume, large torque, small noise, high transmission precision.
4. Excellent CNC processing system, stable performance, simple operation, no professional knowledge can complete the operation after simple training.
5. Unique electric board vacuum adsorption + T-slot table, four independent control and can absorb clips.
6. Imported linear guide rail/rack/screw screw screw, high precision, stable transmission, long life, good stability.
7. The bed body is welded by high rigidity rectangular steel tube and optimized mechanical design structure of drawing net.
8. High precision metal water - cooled cutter spindle motor through secondary dynamic balance precision testing to ensure machining accuracy.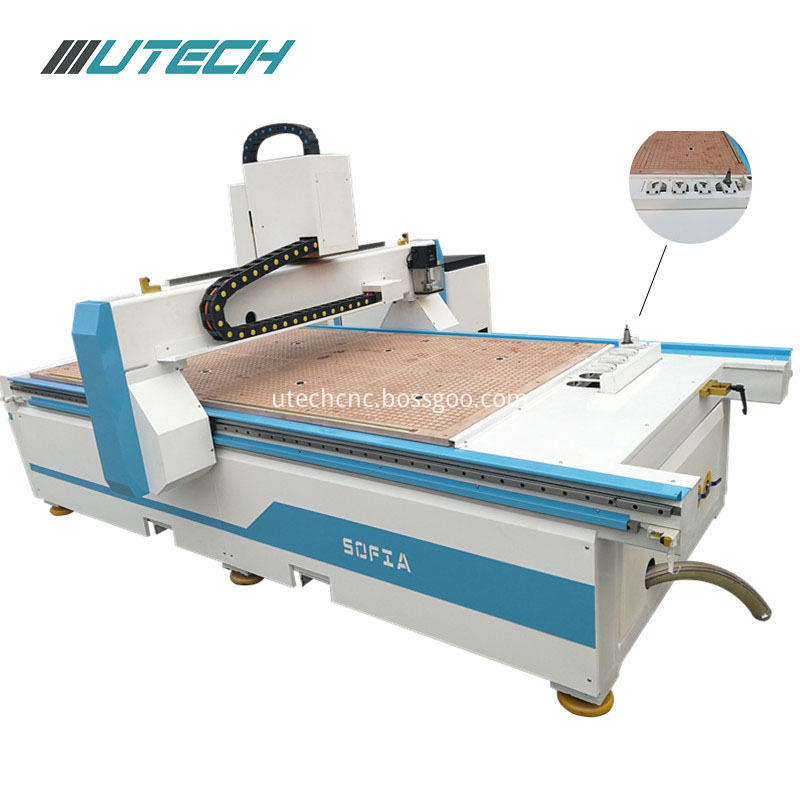 Standard Configuration
Spindle Power: ATC metal type 9kw water cooling spindle
Working Voltage: AC380V/50Hz
Operating System: Operating System
X,Y,Z Working Area: 1300*2500*200mm(or 2000*3000*200mm)
Table Surface: Vacuum Table+T-slot table
Vacuum Pump: Water pump 7.5KW
X, Y axis transmission: 1.25 module Xinyue gear rack
Z axis transmission: Taiwan TBI Ball Screw
Packing: Wooden case
Warm tips: all parts of the machine can be upgraded or changed. Please tell us your material and size. We will customize the most suitable machine for you.
Detailed Images

1/ 9kw air cooling spindle and vacuum adsorption using suction folder independent partition control intensive adsorption platform structure.
Because the accuracy of cnc router machine is greatly depends on the spindle ,The Sofia Series CNC Router machine comes with 9 kw high frequency Air cooling spindle. Thereby the high precision spindle can considerably reduce maintenance. Fully programmable speeds from 6000 to 24000 RPM.more powerful and less noise.
2/ Germany ASK/PMT 20 linear guide+20 Flange slider.
PMI 20 Linear guide+Flange slider+precision 1.25 helical rack
The PMI linear guideway
Low frictional resistance, high precision maintained for long period
High rigidity with four-way load design
Suitable for high speed operation
Easy installation with interchangeability
thus all Sofia series adapt PMI linear guideway.
Rack of Sofia adopts high-precision 1.25 helical tooth rack, which is complementary with the professional motor and professional deceleration device, which runs smoothly, high speed, high precision and low noise.
Adapt PMI 20 Linear guide+Flange slider+precision 1.25 helical rack transmission structures can ensure that Running stably and reliably, working life is long, machine can keep working for long time.
3/
The bed adopts 6 soles welding heavy structure, local uneven surface can freely adjust the height of the bed, convenient and durable, the most important is to ensure the smooth operation of the machine, reduce resistance.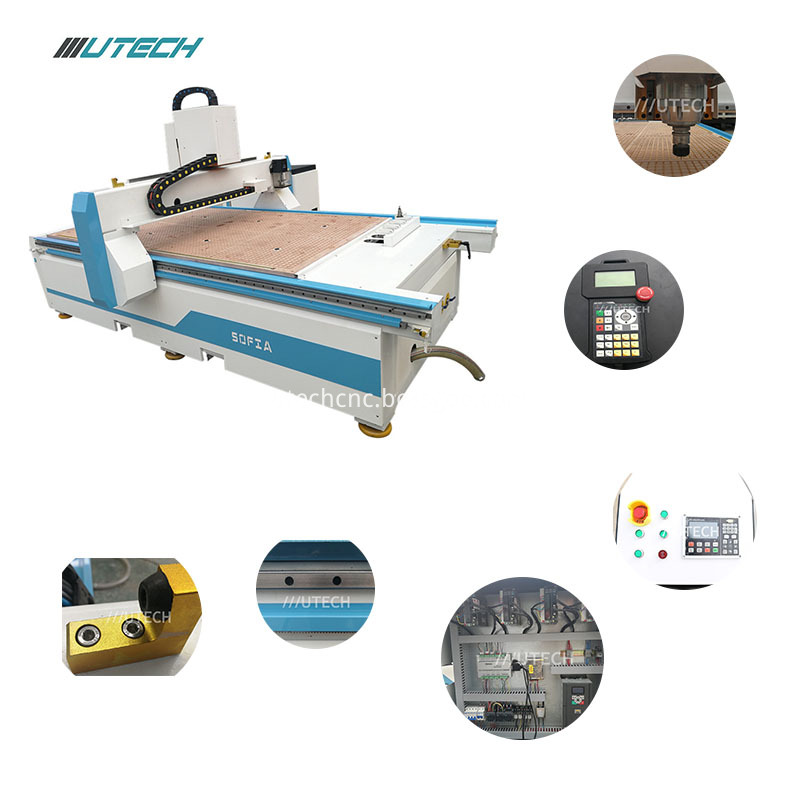 Company Information

Customer problems
1. My machine is broken. Can you repair it for me?
Yes. We have free traning online.
If there is big trouble with your machine in the warrenty time, we can repair it.
2. Can I get a machine according to my own requirements?
Sure. We accept your material and size. We will customize the most suitable machine for you as your requirements.
3. I am a new machine operator. Do you provide training?
Yes. We supply overseas after-sale service.
4. What's the quality of your machine?
Our machine adopts heavy lathe bed, and each part is processed by CNC
machining center, which greatly improves the accuracy of machine operation.